My little sis is doing well, she is going to be with her baby, who is in an NICU in a town a couple of hours away.
Holy Cow, Soooo glad she's allright.
And on a very much even more positive note, my little sis (a different one, NOT the one who just had an emergency C) sent me a pic of her (yes, that's her doing the splits, the little firebrand) ballroom dancing at a recent competition of hers.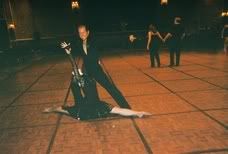 Bear in mind that she's sending in her mission papers in a couple of months.
She's gonna set the mission field on fire.